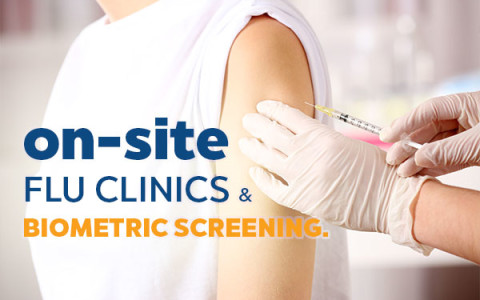 Get a Return on Your Immunization
Up to 20% of the nation's workforce gets sick with the flu each year, and each of those employees loses an average of 5 work days annually
Companies lose millions of dollars due to absenteeism and increased medical costs
Make it a policy to vaccinate your employees against the flu every year to maximize performance
Your bottom line, and your healthy employees, will thank you!
On-site Clinics Include
Education and communication before, during, and after the clinic
Immunization-trained Registered Nurses
Coordination, registration, set-up, and administration of the clinic
Biometric Screenings Can Be a Great Addition to a Flu Clinic
Get a sense of the health of your employee population
Provide employees with data on current and potential medical issues
Help employees recognize strategies for disease prevention and better health
Learn more about on-site flu clinics & biometric screenings

With on-site clinic capability, Occupational Health Partners can save your company time and money by conducting on-site flu clinics.  Call us at 802-747-1753 to speak with one of our representatives for more information, or use the link below to contact us today.